Teaching
I am very passionate about the process of accelerated learning. I love to teach and have taught at countless conferences, corporate events and universities on many topics including jazz history, business agility and acceleration, team collaboration, creativity, and more.
Become an impactful wildlife photographer
I teach wildlife and nature photography in 1:1 or small group settings. I have very specific thoughts about what goes into becoming a successful photographer and I'm very passionate about helping others to 10x their photography skills and go beyond getting simple record/proof/evidence shots to creating images with strong impact.
I help people build a strong technical base and gain mastery over their gear so they can get those things out of the way and let creativity and artistry flourish.
Unfortunately the pandemic put a serious pause on my ability to run tours and get out into the field with others but I've been teaching online and am available for private tutoring.
Check out my YouTube channel to get an idea of some of the things I believe are important to becoming a good photographer and capturing truly unique, print-worthy images.
Understanding jazz
Since 2011 I've been teaching a course about jazz history and performance as part of Carleton University's continuing education program. This course has consistently received rave reviews from students (see feedback below). There are six classes and each class is two hours long and typically held on Friday afternoons. One of the classes is a live music performance where I bring in other musicians for an impromptu concert with explanations about how the musicians perform. I teach this class much like a jazz performance, improvising the precise content and delivery for each class. A few people have even taken the course multiple times to benefit from this unique style of presentation. The course follows a loose outline covering jazz from the 1920s to the 1960s with a focus on providing insight into what went on behind the scenes for key performances and recordings as well as understanding the structure of the music and how jazz musicians improvise and collaborate in the moment. I play, sing, and involve the class in group exercises to help explain form, rhythm and other elements of jazz music. Students also receive handouts with unique essays written by me on key figures or seminal jazz works referred in the course.
Understanding creativity
In 2019 I taught a new class at Carleton University called "Creativity at Scale: How the creative process powers the world." In this series of six classes, we explored individual and collaborative creativity using examples from photography, jazz, business, and more. We looked at how creativity is leveraged through different cultures, disciplines, and domains. We talked about why creativity is becoming increasingly important, how tools, techniques, and other things help or hinder creativity, the commercial aspects of creativity, and more.
We had special guests (one class featured a performance by a jazz trio while another featured a presentation by a visiting professional photographer) and I drew from many real-world examples as well as from my own work including my photography and music, and my book.
I hope to teach this class again in the future.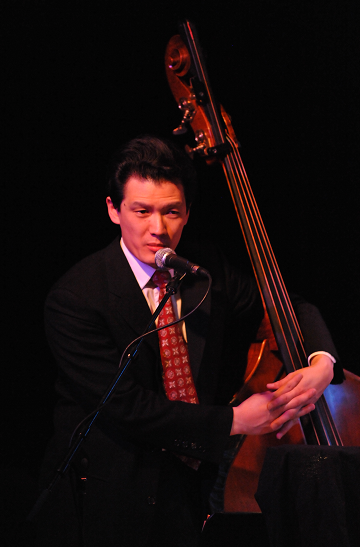 "Adrian had the ability to convey important material in an interesting and lively manner."
"Very knowledgeable and engaging lecturer; lots of fun."
"The instructor's knowledge of the subject matter was extensive and his ability to apply his real life experience to the subject matter made for a most enjoyable class. He accommodated all questions with respect. Adrian's ability to communicate so effectively is a real asset. I hope you will consider offering another lecture by the same lecturer. I liked the loose, non-linear structure of the course especially in the context of the subject matter. Very cool course! I would even consider taking it again!"
"Adrian is an amazing teacher and very knowledgeable. I would be really keen on taking a more advanced class with him." "Best course I've taken. Adrian was knowledgeable, pleasant, and had a love of his material and a lot of knowledge. I learned a lot."
"The instructor was very, very knowledgeable about the subject matter and presented the course in a very engaging and personable manner."
"Virtuoso teaching performance by Adrian Cho. Bravo!"
"Adrian's knowledge is phenomenal and his suggestions of what to buy were useful."
"Adrian's knowledge and his presentation of the course. It was excellent and he made the class interesting, informative, and fun."
"The professional approach to teaching, the in depth knowledge of the instructor, the pace was perfect; everything about this course was wonderful. Adrian knows how to reach his audience, as a teacher he is also spot on!"
"Adrian Cho's ability to present the course in a manner that was informative, engaging, based on expert knowledge, etc."
"I have already recommended the course to my wife. If there was a continuation of the course, I would take it. It was excellent."
"More courses with this caliber of lecturer please."
"Course was well prepared and interestingly delivered."
"Excellent course, most enjoyable and illuminating."
"Adrian Cho was very informative and easy to understand. I appreciated his easy, pleasant style."
"Adrian Cho is a fantastic lecturer – very knowledgeable and great presenter. Hope he will do more!"
"Adrian Cho was articulate and well prepared. A delightful lecture series."
"Lecturer really knew his material and kept the class moving along at a perfect pace. Could not ask for more."
"Adrian has an innate ability to interact with the students and his knowledge is amazing."